Jaws will be seen hanging off the floor as people emerge from Disneyland's 15-minute Star Wars-themed ride.
Disneyland California is about ready to expand its 14-acre immersive land, Star Wars: Galaxy's Edge, with a second attraction that's so huge, it's the biggest in Disney Parks' history.
Rise of the Resistance will join Galaxy's Edge's existing attraction, Millennium Falcon: Smuggler's Run, on 17 January 2020, where it will blow off visitors' socks.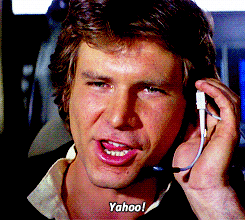 That is, according to those who have already experienced the attraction at Walt Disney World in Orlando. 
Reviewers have described the attraction as unique in that it's made up of multiple ride profiles and runs for an incredible 15 minutes long.
So, what will Disney squeeze into the quarter of an hour? 
Well, it starts with Finn attempting to rescue riders from a Stormtroopers-raided aircraft. 
However, as they attempt to follow Finn's instructions, they're attacked by Stormtroopers, they encounter General Hux, and they're chased by Kylo Ren! 
Oh, yeah. 
The Supreme Leader uses The Force to block their escape, and activates his lightsaber to cut through the ceiling! 
Another key highlight of Disneyland's next Star Wars ride is its inclusion of Batuu, the remote trading post which Star Wars: Galaxy's Edge is named. 
I've been waiting for you, Rise of the Resistance! 
What else can you expect at Galaxy's Edge? 
Where should I start? 
Well, there's Oga's Cantina where you can try blue and green milk or enjoy an out-of-this-world snack. 
You can make your own Lightsaber at Sabi's Workshop, build a droid (like BB-8) at the Droid Depot, watch Kylo Ren scold his followers, and meet Chewbacca (and other Star Wars characters).
Of course, you can also ride Millennium Falcon: Smuggler's Run, which I can tell you from experience is insanely fun and entirely dependent on your ability to follow instructions.  
Want to know more? Click here.